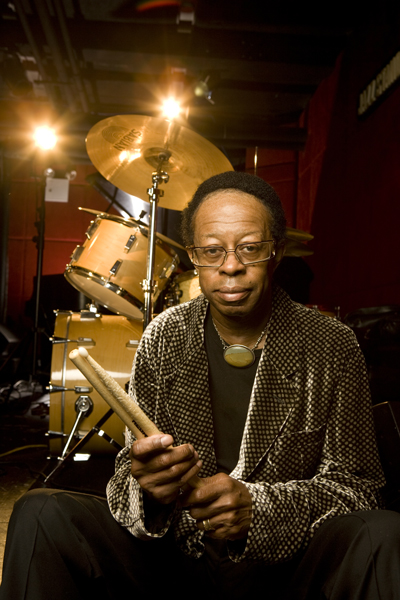 Louis has played and recorded with jazz greats such as John Coltrane, Thelonious Monk, J J Johnson, Sonny Rollins, Jackie McLean, Wes Montgomery, Joe Henderson...
Welcome
L
ouis Sedell Hayes was born May 31, 1937 in Detroit Michigan. He was always surrounded by music, actually first starting with the piano before his father gave him a set of drums at age 10. A cousin noticed his talent, took him under his wing and made sure that his approach to the instrument would serve him well. And well it did, for after developing his skills in the fertile musical ground of Detroit in the 1950's with the likes of Yusef Lateef, Kenny Burrell, Doug Watkins and others, Louis found himself at the tender age of 18 in New York as a member of the great Horace Silver Quintet. His first recording with Horace, the classic Six Pieces Of Silver would introduce him to the jazz world as a new force to be acknowledged.
Louis continued to enhance his reputation with Horace from 1956 until 1959 when he joined Cannonball Adderley where he propelled the quintet to joyous musical heights and timeless recordings through 1965. He joined piano master Oscar Peterson from 1965-67 during which time he and bassist Sam Jones became known as the "dynamic duo", recognized as the most powerful rhythm duo in jazz. Louis would rejoin Oscar in 1971 for a year.
For the next decade or more he became leader or co-leader of a series of electrifying groups which included musicians such as Freddie Hubbard, Kenny Barron, Junior Cooke, Woody Shaw and Dexter Gordon. Louis also spent several years touring with McCoy Tyner.
Continue Reading >>